In the Grid editor, the XML document is displayed as a structured grid of nested tables. A non-technical user can modify the text content without editing directly the XML tags. The tables can be expanded and collapsed with a mouse click to show or hide the elements of the document as needed. The document structure can also be changed easily with drag and drop operations on the grid components. The tables can be zoomed using (Ctrl - +), (Ctrl - -), (Ctrl - 0) or (Ctrl - mouse wheel).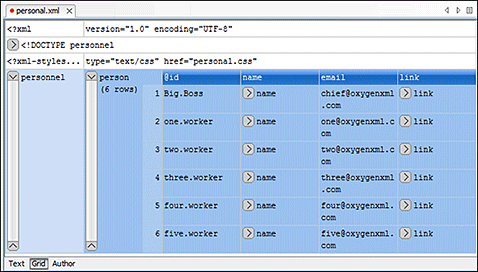 The Grid Editor
You can switch between the text tab and the grid tab of the editor panel with the buttons Text and Grid available at the bottom of the editor panel. Also the switch can be performed with the actions Document > Edit mode > Grid and Document > Edit mode > Text.
If the edited document is associated with a schema (DTD, XML Schema, Relax NG, etc.), the editor offers content completion assistant for the element and attributes names and values. If you choose to insert an element that has required content, the subtree of needed elements and attributes are automatically included.
To display the content completion popup you have to start editing, for example by double clicking the cell. Pressing (Ctrl - Space) also displays the popup.
Content Completion in Grid Editor