Oxygen XML Editor provides a special view for editing DITA maps. The DITA Maps Manager view presents a map in a simplified table-of-contents manner allowing the user to navigate easily to the referred topics and maps, make changes and perform transformations to various output formats using the DITA-OT framework bundled with Oxygen XML Editor.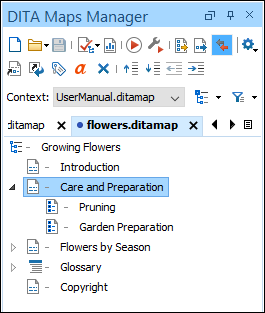 The DITA Maps Manager View
The view supports opening multiple documents at the same time.
All files which have the extension .ditamap or .bookmap are open in the DITA Maps Manager view. In addition, you can right click the file in the Project view and select Open with. If you opened the DITA map file in the editor panel you can open it also in this special DITA map view by right clicking on the title tab of the editor panel and selecting the Open in DITA Maps Manager action from the popup menu.
Drag and drop operations are allowed inside the view. You can move topics inside the same map or between different maps by dragging and dropping them into the desired position. Also, you can copy topics by dragging them while pressing the Ctrl (Meta on Mac OS) key.
The toolbar includes the actions which are also available on menu DITA Maps:
Tip:
If your map references other DITA maps they will be shown expanded in the DITA Maps tree and you will also be able to navigate their content. For editing you will have to open each referenced map in a separate editor. You can choose not to expand referenced maps in the
DITA Maps Manager
view or referenced content in the opened editors by unchecking the
Display referred content
checkbox available in the
Author preferences page
.
The following edit actions can be performed on an opened DITA Map: